He heads up a company that manages hundreds of thousands of properties in Singapore, but EM Services CEO Tony Khoo always remembers to be humble, even if the company is advancing to keep ahead of megatrends.
Although he graduated with first-class honours in engineering from Canterbury University in Christchurch while living in New Zealand, Tony Khoo realised that engineering wasn't challenging enough for him.
After three years working as an engineering consultant, he decided to take on an MBA at the University of Victoria in Wellington, where he learned that there isn't a right or wrong answer to a business problem. That, to him, was exciting and intriguing.
With the master's under his belt, Tony made the move into facility management, which has taken him to Singapore, the hub where he now runs EM Services from the CEO seat. It was a natural progression to transition into this industry from engineering, which he says helps on a day-to-day basis.
"Because of my engineering background, it's logical that I naturally went into the construction and facility management industries. I understand how things have been built and what the engineering requirements are."
On joining EM Services just short of five years ago, Tony wanted to refresh the company's mission and values as one of his first tasks. "We did a review of who we are, what we are doing and what everyone's goals are," he says. According to Tony, developing this new vision and mission was a major milestone.
"We widened and expanded our mission and basically positioned ourselves differently. We had a narrow definition of our company before that. If you look at our new vision and mission now, our positioning is much clearer as a real estate management and engineering services company."
The mission now is about creating a great environment for people to work, live, learn and play. "It's much broader, and hence, our scope of service is more enhanced," Tony says.
Going a step further, last year, EM Services also revamped its branding – complete with a new logo and fresh look – for the first time in the company's 30-year history. "I wanted a fresher and more dynamic brand to pull the team together and then to have a different brand position in the market, which has been a major milestone," he says.
Celebrating 30 years in business has been another significant highlight for EM Services. The celebration took place at the Mandarin Orchard Singapore, with the likes of Deputy Prime Minister Teo Chee Hean, Minister for Transport Khaw Boon Wan and other members of parliament in attendance.
The festivities took staff members back in time on a 'Milestone History Walk' to demonstrate the innovations and growth the company has seen and embraced over the years.
The walk moved from 1984, when Singapore conceptualised the idea of town councils; to 1988, when the Housing and Development Board (HDB) and property group Keppel Land founded EM Services; and to 1991, when the company moved to its current headquarters.
The company has indeed come a long way. What was once Singapore's first township management company is today one of the largest of its kind in the hub, managing 10 of Singapore's 16 townships.
Covering a diverse range of properties, from residential and commercial to car parks, EM Services manages more than 700,000 residential units, 9,000 retail and shop units, 6,500 market and food centre stalls, and 400,000 vehicle car parks across Singapore. The company has more than 1,300 employees and prides itself on enriching communities.
Advancing Megatrends
In the course of its three decades in business, EM Services has had to adjust to a changing landscape and varying market trends – even more so with burgeoning megatrends on the horizon. Tony points out that these megatrends are influencing the way EM Services uses technology now – and will certainly transform operations in the future.
"There are two major global trends happening in our industry: urbanisation and digitalisation," he explains. "There are more people living in cities, so cities are getting larger. China, Vietnam and Indonesia are building more townships, and populations are getting denser. So, buildings are higher and are getting built faster, which means we need more people to maintain them, and it's expected to increase."
As for digitalisation, Tony notes that building technology is advancing every day and is getting more sophisticated. "Today, we have access to huge volumes of data, and data analytics can provide insights in a timely manner, so our pace of response has to keep up," he says.
EM Services uses a digital platform, GOfm, to support the strategic and operational goals of its townships. This integrated system provides real-time updates as well as insightful analysis to quickly solve both short-term and long-term problems. The company also recently launched GOfix, an app for handyman services.
Tony insists that using technology in the right way can offer many opportunities to improve efficiencies and deliver exceptional service. "We need to use technology to make our work much easier and more effective," he says. "As buildings are getting taller and bigger, it is getting more difficult and less safe for people to inspect them.
So, we are using app technology to help us inspect buildings. Using this technology leads to more satisfied clients, as well as being safer for us."
As digital transformation is ever-present now, and will undoubtedly continue to be so in the future, Tony is eager to stay ahead of the trends. "Because of megatrends, we will definitely transform ourselves from a brick-and-mortar type of business into a much more digitally driven business, using technology to drive our operations," he says.
"Keeping ahead in the next five years is quite critical. We will be able to use technology to drive our business and centralise our processes, which will drive us towards success in the next five years."
Keeping up with megatrends also means having a fixed radar on industrial impact on the environment. In early 2018, EM Services received the highest classification for green building services in Singapore from the Singapore Green Building Council for its Energy Performance Contracting (EPC) for Lighting Retrofit.
In 2006, EM Services embarked on a journey to replace conventional lights in common areas of HDB residential blocks and multistorey car parks with LED lights to save electricity. The company also introduced dimming devices to further save energy during off-peak hours.
EM Services has also made a commitment to give back to the community, which has been commended with a Community Chest SHARE bronze award. The company has participated in the SHARE program for more than 20 years to make a difference by providing care and assistance to those in need.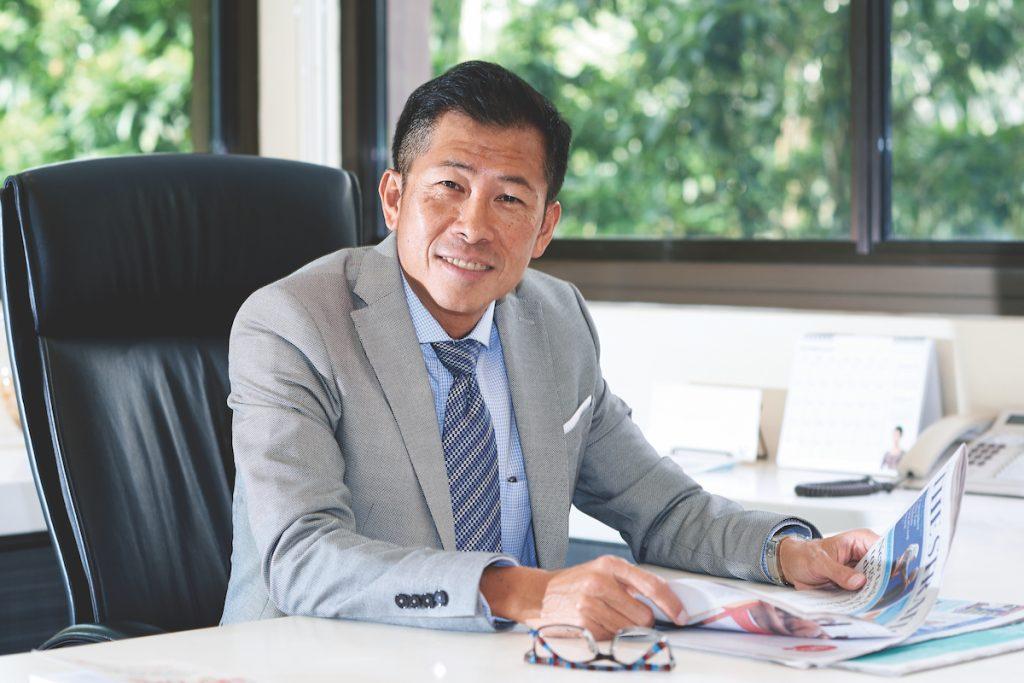 Bringing sexy back
"Making the industry sexy" with the use of technology will attract younger talent to the organisation, says Tony. "For that, we are doing a lot of branding. It is difficult to compete with big multinational companies, and naturally the first choice for young graduates is to work for a multinational.
That's why we are doing a rebranding exercise and explaining that we're not just a brick-and-mortar industry. We are evolving into a digital business. A lot of technology advances will come into the industry, and it's going to be very exciting."
To explain the change in the use of technology, Tony draws on the difference between people inspecting a property using cameras and app technology and showing off a property with panoramic, bird's-eye images. "When we do building inspections, we can showcase it with a drone now," he says.
It's this change, in both the way consumers operate and the way the industry responds, that Tony has embraced. And he believes keeping on top of these trends will keep the company progressing forward and will draw younger talent.
"We are training our people to be drone pilots instead of outsourcing it to other companies," he says. "I think that sense of interest and excitement, for us, is how we are attracting young candidates."
EM Services also uses virtual reality (VR) technology for training, which is much safer for the trainee, and makes it easier to teach traditionally dangerous or tricky situations. "It's very difficult for people to be trained to do maintenance in confined spaces, such as in a lift.
So, we use VR to teach them so that they can see from all angles," he says. "And it is a lot safer to be trained in a classroom instead of on top of a lift."
The Workplace Safety Health Council certifies that EM Services has achieved bizSAFE Level STAR, the top tier of a five-step program that helps companies develop their workplace safety and health capabilities. Armed with this certification, Tony reiterates the company's pledge to workplace safety. "We're committed to improving the workplace and keeping our employees safe and healthy," he says.
Shifting the focus
Developing the EM Services vision has the company concentrating on a handful of specific facets. "If you look at our vision, there are four areas of excellence that we want to really build up – developing our people, having the best service and systems in place, and being at the forefront of innovation are critical to progressing forward," Tony says.
He's adamant that a healthy corporate culture is paramount in business. "The most important thing is our core values," Tony says. "We have three core values, which we call P-I-C: professionalism, integrity and care. Our approach to professionalism is that we do what we know, and we know what we do.
It is important that our people are very competent in what we are doing. Integrity is we do what we say, and we say what we do. Basically, it means we deliver on our promise to our customer. That is very important. If we want to build confidence in our customer, we need to ensure we can deliver what we do. Finally, it's about care. Care is when we do what we care for, and we care for what we do."
Tony equates this to excellent customer service. "Our interest in our customers and residents is always in our hearts," he says. "It's not just about making money. It's also about looking after our customers; looking after their properties; and making sure that they have a good environment for themselves to work better, and live, learn or play, especially for children. This is the culture that we try to build up for our cause."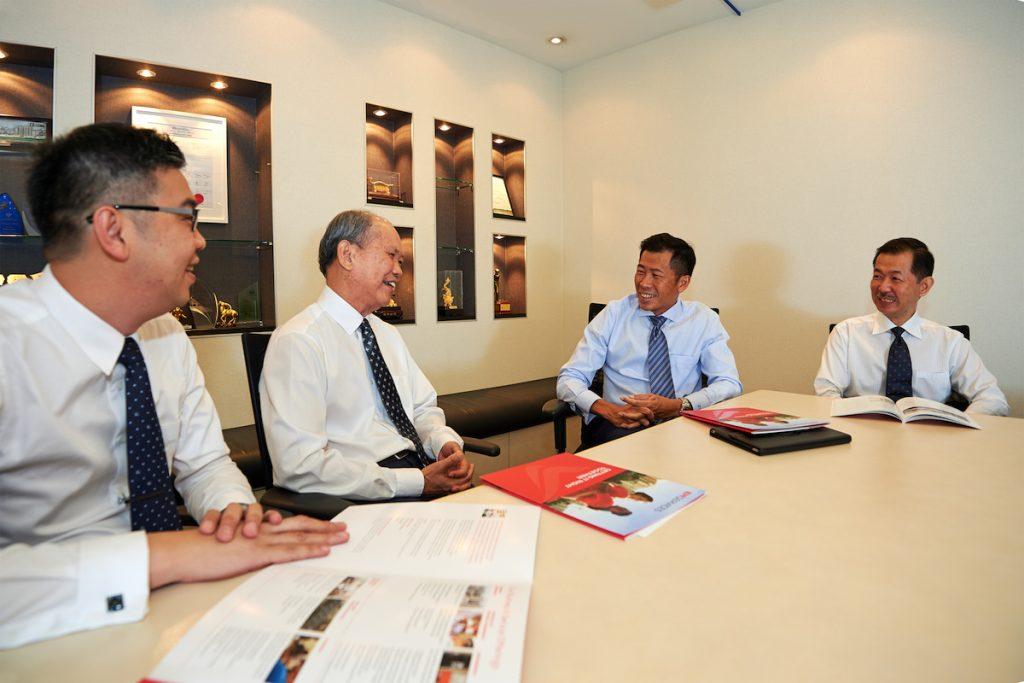 The EM Services CEO has several pieces of advice for the next generation, which he shared in a speech for the graduating students of the Singapore University of Social Science (SUSS) in 2016 as a guest of honour. "The first lesson I told them is be bold," he recalls. "Get out of your comfort zone.
Pack your bags and chase the pot of gold at the end of the rainbow. Opportunity doesn't come to you, so don't stop. To rise to the top, you have to go and get it. Don't wait for a job to come to you."
"The second piece of advice I gave them follows on from what Steve Jobs said, which is: be hungry, be foolish, try anything, do everything and don't be afraid to fail," Tony says. "Finally, my third lesson is to see not what you are now, but what you can be tomorrow for the better.
Do what you can do today, but imagine what you can do in the future. Once you have that particular focus or target, in time you will go to work for the future that you want."
Along with that advice, Tony's philosophy is to always remain humble. "To me, humility is very important," he says. "If you are humble, as a person and as a company, we will move a lot further and a lot surer in the long term."
If that means compromising, that's also OK. "We must always try to achieve what we are reaching for, and that goes for all parties," Tony says. "If I need to compromise to be able to achieve what we need for the situation of all parties, then I will compromise. It is not necessary that I need to win all the time.
I think it is important that you maintain a harmonious environment and a harmonious relationship and achieve the need for all."
When he's not busy managing his company or giving speeches to graduates, Tony also serves as President for the Singapore Chapter of the International Facility Management Association (IFMA), a widely recognised global organisation that supports 24,000 members in more than 100 countries.
He is working voluntarily with the government to reshape and transform the facility management industry. "I am helping the government to work out certain strategies so it can make facility management in Singapore much stronger and exportable," Tony says. "The Singapore government and the association believe that facility management, if done right, will bring tremendous efficiency and savings, as well as raise the standards of the building industry."
The article first appeared in The CEO Magazine, written by Kathy Skantzos.