EM Services celebrates its 30th anniversary at Mandarin Orchard on 28 September 2018. We were greatly honoured to have Deputy Prime Minister Mr Teo Chee Hean, Minister of Transport Mr Khaw Boon Wan, Members of Parliament, Secretary-General Emeritus of The Singapore Manual and Mercantile Workers' Union Mr John De Payva, Chairman of EM Services Board Mr Matthias Yao, Members of EM Board, and EMers to join EM Services in the joyous occasion!
Some highlights of the evening…
The 'EM Services Timeline Milestone History Walk' where we went back in time to 1984 where the idea of Town Councils was conceptualised, to 1988 where EM Services and HDB employees were seconded and cut over in 1991 to EM Services (thus, our pioneers were born!), to moving to our current HQ till to-date innovations and technology we have implemented over the years to create a great environment for all to live, work, learn and play in! A fun photo booth filled with props associated with EM for our staff and a very 'red carpet look' photowall, allowing our guests and EMers to capture and remember the amazing night.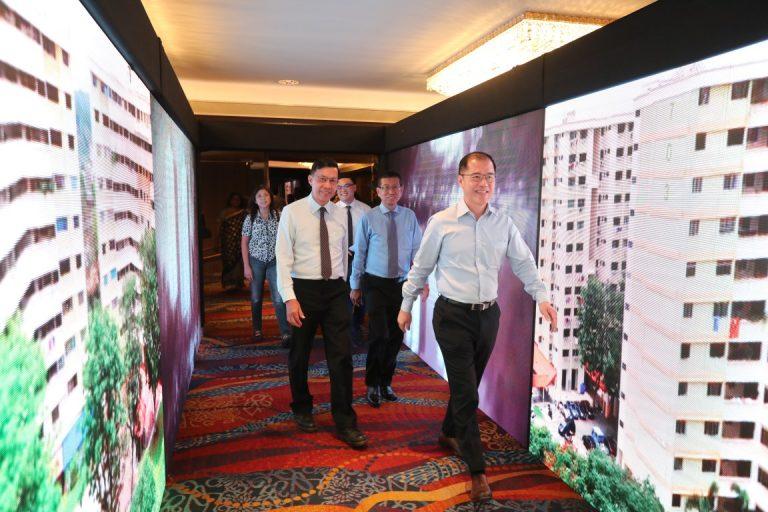 Our P.I.C Service Values never too far away from us as guests proceeds to the Grand Ballroom where they walk through a 6-metre long LED panels, 'transporting' our guests to an era of old housing estates and then experiencing the changes and the transformation to where we are today.
The opening performance by MINDS Taiko Drum Percussion team blew our minds away. A spectacular performance as we felt the energetic and uplifting spirit from the melody and the performers. Next, we invited CEO Mr Tony Khoo to give his welcome speech.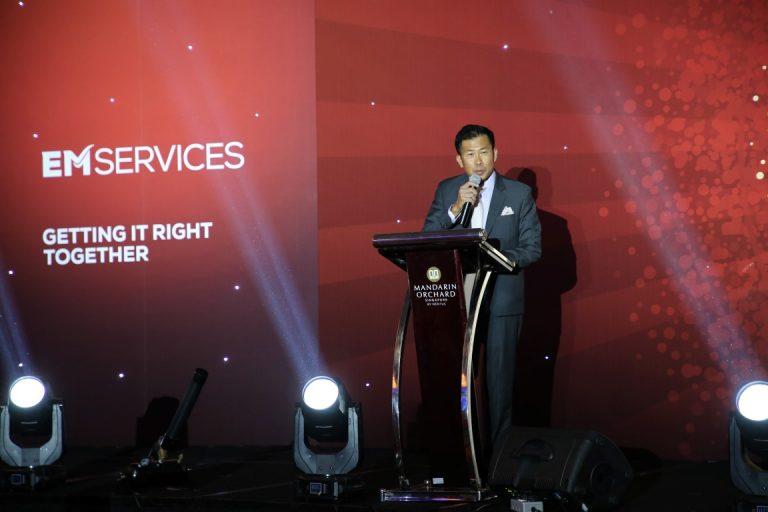 A part of the speech that etched in our minds…
"To maintain such long relationship, it must be True Love. In fact, our relationship is more than true love. Our relationship is built on the foundation of our core values of Professionalism, Integrity and Care."  
Next, we had the cake cutting ceremony… (A 16kg cake, more than enough for all our guests!)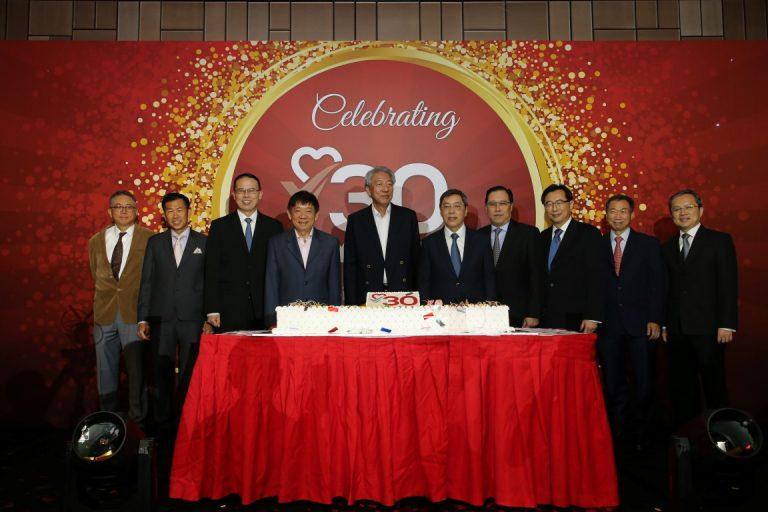 After the ceremony, GM Mr Kua delivered his speech. As of 28 September, he would be retiring  from the company.
In our words…
Mr Kua, once an EMer, forever an EMer! May you enjoy your retirement and many blessings to you and your loved ones!
The other two highlights of the evening were the scroll personally penned by our Chairman, Mr Matthias Yao. The passage was taken from the Chapter 66 of Lao Zi's Dao De Jing (老子道德经) It says: 江海之所以能為百谷王者,以其善下之,故能為百谷王。The reason why rivers and oceans can be lords of a hundred streams behind is that the bigger they are, the lower they put themselves. Because of this, they can become the lords of a hundred streams.
Moral of the passage: In order to rule people, one must speak as their servant; In order to lead people, one must first behave humbly.
Mr John De Payva, Secretary-General Emeritus of the Singapore Manual & Mercantile Workers' Union (SMMWU) representing the union, has also prepared something special for EM Services too!
Of course not forgetting the Yum Seng toast! The night went on with amazing performances by talented Ateeqah together with her group of beautiful ladies who have specially put together an elegant lyrical dance for all and also great music by AGOP (A Group Of People)!